Real Pressure On Fred Hoiberg In Year Two Of Bulls Rebuild
Who's facing the most pressure in this Bulls rebuild? Just for a second, let's forget about the player with a fresh $80 million deal despite an ACL tear and 24 underwhelming games last season. Let's also forget the hometown kid coming off two ACL tears making $20 million on a "prove it" contract.
Forget the young point guard who showed signs of promise but lacked consistency in his injury-riddled 2017-18 season. The #7 overall pick in the 2017 draft who proved doubters wrong with skill and grace on his way to making the All-Rookie First Team?
The 2018 #7 overall pick from Duke, who despite playing second fiddle in his lone college season is already pegged as the most NBA-ready big from his draft class? Yeah, put both of them aside too.
When talking about Year Two of the current Chicago Bulls rebuild, the real pressure is on head coach Fred Hoiberg. He's the one who has to make all of this work. Tim Gunn knows what's up.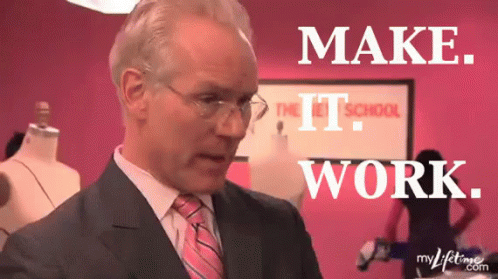 Yeah, I've watched some Project Runway. Big whoop, want to fight about it?
Seriously, though. Pretty much everyone on this young Bulls roster is coming into the 2018-19 season with something to prove. But Hoiberg, in his fourth year of a five year deal, might have the most to prove and the most to gain or lose. And he'll have to juggle lots of young emerging egos and individual agendas while trying to get this team back to the postseason where his bosses want them to be.
Let's touch on those individual agendas.
Parker
Jabari Parker, the (other) Simeon Career Academy hero and former #2 overall pick, is back in Chicago on a massive "prove it" contract after the first chapter of his NBA career fizzled out in Milwaukee. Can he prove that he's finally healthy after tearing the same ACL twice in his first four pro seasons?
Beyond putting together a full and healthy season, can he prove the doubters (ahem, me) wrong who don't believe he fits into this roster at the small forward position? Will he backtrack on that "they're not paying me to play defense" nonsense and actually try to be a complete player?
Can he coexist with Zach LaVine, continue to improve his three point shooting off the ball and find the correct moments to be the dominant offensive player on the court?
Parker wants to prove that he still has a bright future in the NBA after being a disappointment compared to his draft position through four seasons. He wants Gar Forman and John Paxson to believe that they were right to pay him $20 million this upcoming season, and they should either a) pick up their team option and pay him $20 million more or b) renegotiate and sign him to an even larger multiyear deal in the summer of 2019.
LaVine
LaVine may have a slightly less damaged knee than Parker, but there are still plenty of doubters regarding the Bulls' financial commitment to the former dunk champion. A significant portion of the fanbase wanted the front office to decline matching the offer sheet LaVine received from the Kings in free agency. He knows that.
Plenty of analysts, media members and fans pointed out that LaVine clashed with other rebuilding cornerstones Kris Dunn and Lauri Markkanen the few times they shared the court last season. He knows that too. And the criticism about his defense? Yeah, he knows.
The guy who – at the time – was perceived by many to be the prize of the Jimmy Butler trade and new face of the franchise, had to watch from the sidelines for large stretches of last season while the fanbase fell in love with Lauri Markkanen.
Now, even though LaVine has the biggest contract, most straw polls see the Finnish kid as the face and future of the rebuild over LaVine.
I'd say that's enough to light a serious fire under Zach's sneakers. He's going to come out of the gate fast, aggressive and jacking up shots. Individual agenda? Abso-freaking-lutely.
Dunn
With all the talk about LaVine to begin the offseason, and the surprising arrival of Parker, Dunn is probably feeling a little left out this summer. Maybe he's okay with that for now, as he doesn't seem like the type of player who wants all of the attention from media and fans.
But you better believe he sees all the talk about Parker, LaVine, Markkanen, and even the new rookie Wendell, and is thinking, "Wait a minute. I'm the damned starting point guard, aren't I?"
Dunn looked strong for a stretch of games in December and January before his scary fall and ensuing concussion knocked him out for several weeks. Between the Bulls doubling down on the tank and a late-season toe injury, Dunn never fully regained his effectiveness and form.
This season will be a big one for Dunn. Can he follow Paxson's instructions and improve his finishing at the rim? Can he expand his shooting range? How about doing both of those things while simultaneously running Fred's offense efficiently and feeding the mouths of several hungry players?
Defensively, he's going to be left out to dry on many possessions on most nights. He needs to do what he can to lead this team defensively, being vocal and making up for the weaknesses of LaVine and Parker whenever he can.
If Dunn manages all of that, might the Bulls consider signing him to a new contract in 2019 instead of just picking up the team option for the last year of his rookie deal? It's an outside shot, but I guarantee you it's one that Dunn is thinking about as he enters training camp in a few weeks.
Markkanen
With Markkanen, the individual agenda is a little trickier. He's a soft-spoken guy, so you might not think he cares all that much about losing touches and shots to a full-season version of LaVine (sans minutes limit) and newcomer Jabari. But he knows the fanbase embraced him as the guy in the first year of this rebuild, which happened to be his first in the league.
He wants to build on that.
There's been talk around Bulls Twitter of an impending "sophomore slump" for Lauri, between the shooting slump he had in the latter stages of last season and the increased competition for offensive focus among his teammates. He hears that.
In Lauri's case, don't mistake soft-spoken for modesty. We've already seen the physical evidence of how he spent the offseason bulking up his frame. Translation? He doesn't want to be merely a 7-foot three point shooter in this league. He wants to work in the post as well. He's not looking to sacrifice any of his offensive versatility, and he shouldn't.
He can prove this season that his rookie year was no fluke, and he's a legitimate star in the making. The Finnisher is just getting started, and he's going to want that ball a lot this season.
Carter Jr.
You have to think 2018's #7 pick Wendell Carter Jr. might be feeling a little bit of déjà vu this summer. When the highly sought after high school product committed to Duke, he was recruited to be "the guy" in their frontcourt. He was going to be their primary scorer.
Well, that changed when Marvin Bagley III reclassified and committed to Duke at the midnight hour. Carter Jr., ever the team-first player, buckled down and did the dirty work in his lone college season while Bagley got the big numbers and most of the glory.
Now, after impressing everyone in Summer League, Carter Jr. hears that the Bulls made a surprising addition to their roster. Parker's arrival knocks Carter Jr. down another peg on the offensive totem pole, and this time he was already near the bottom.
Bagley went #2 overall to the Kings, but there were rumors that the Bulls were trying to trade up to take Bagley after falling to 7th in the lottery. There were also reports that the Bulls wanted to trade up for Mohamed Bamba or Jaren Jackson Jr. For all of the talk from Paxson and Forman about how much they love Wendell as a player and a person, he's still aware that their eyes were wandering elsewhere.
Do you think he might have a slight chip on his shoulder coming into his rookie season, knowing everything that's happened over the past year? I'd say so.
Robin Lopez is still expected to be the starting center to begin the season. That means Wendell, who has expressed his excitement about building one of the league's best young frontcourts with Lauri, will have to make the most of his early season minutes. If Wendell shines, especially in some early looks playing alongside Lauri, it might motivate the Bulls front office to more aggressively shop Lopez and hand the starting job to the rook.
Bench Guys
Then there's the other two key pieces who are regularly mentioned by the front office when discussing the "young core", and that's Bobby Portis and Denzel Valentine. Portis bounced back from the ugly Nikola Mirotic situation and a suspension to have a strong 2017-18 season. He's still a work in progress on the defensive end, but he showed his offensive versatility and motor in a way we hadn't seen in his first two seasons. He's already set the next goal for himself: 6th Man of the Year.
As for Denzel, he said loudly at the end of last season he believes he's good enough to be a starter in this league, and on this Bulls team. Given the crowd at his two positions (SG/SF) with a healthy LaVine, Justin Holiday, the rookie Chandler Hutchison and now Jabari, Denzel won't be starting at any point this season barring multiple injuries or trades. And I'm sure he'll take his bench role and maximize his impact every way he possibly can.
Cameron Payne wants to prove that Paxson and Forman are right to believe in him as the primary backup point guard after Jerian Grant was shipped off to Orlando. He also probably would like to be known in Chicago as something other than the butt of a years-long joke dating back to the trade with Oklahoma City.
Antonio Blakeney has to prove he's worthy of a real contract after dominating the G League. Welcome to the big time, 'Ton. Show us what you got. Cristiano Felicio appears to be one of the most overpaid players in the league after his disastrous performance last season. Obvious agenda there.
Everywhere you look, this young roster has individual agendas. Can they actually come together, put most of that ego aside and play some quality(ish) team basketball? Enter Hoiberg, the $25 million man.
The Mayor
Not you, Rahm. You can take Chance's advice and get outta here. We're talking about THE Mayor. Fred has a daunting task in front of him this season, based on everything outlined above. He was unable to handle the large egos of stars and veterans like Dwyane Wade, Jimmy Butler, Rajon Rondo and Joakim Noah.
The young roster seemed happy to work and try hard for Fred through most of a long, losing season last year. Now that some of these youngsters are turning into young veterans – some of them with All Star aspirations and large contracts to back up – will Fred still be able to control them? Get them all to buy into his style of offense? Get them to listen to whichever one of his assistant coaches is in charge of trying to play defense that day?
The Bulls brain trust of Reinsdorfs and Paxson – collectively running this team since 2003 – rarely fire coaches midseason. Personally, I'd still be surprised if they give Hoiberg the ax at any point this season, even if the wheels fall off early and they're nowhere near contending for a playoff spot. But if Fred's bosses don't see enough from him in the fourth year of his contract, he might not get to the fifth. The front office keeps preaching about "player development", especially with the young core of the rebuild. If Markkanen, Dunn and LaVine all fail to take considerable steps this season, will the front office blame Fred? It's certainly possible, if not likely.
The NBA is a players league, and the carousel of coaches always has a few proven names to choose from for those teams in need of a change. Fred left a great job and a happy life as the coach of an up-and-coming Iowa State team to make his debut as an NBA head coach. Some who make that transition and fall flat in their first attempt never get a second, relegated to the college level for the remainder of their careers. Might Fred be the next example?
If the front office has a chance to save their own hides by using lovable but underwhelming Fred as the scapegoat, I wouldn't be surprised to see them do it. If there are two ironclad truths about the Bulls and the NBA, with one variable in this situation, the two truths are: 1) this front office apparently has the sturdiest job security in the league or any profession 2) players are more valuable than coaches.
Fred is the unknown variable.
If LaVine, Parker or any of their teammates fail to impress this upcoming season, it's fine for them. LaVine already inked a big contract. Parker will get at least one more shot if this "prove it" contract turns out to be a one-year failure in his hometown. All the other guys on the roster will likely have more chances to earn roster spots and large checks.
And even the mid-level guys and bench players go on to make more money than the average coach if their careers last long enough. They're the ones with the endorsements, too.
Sure, Fred might not have as much money at stake as, say, Jabari Parker this season. But in the grand scheme, he has the most to gain and the most to lose. And that, my friends, is pressure. Real pressure.
It's on Fred this season. Will the young guys with their individual agendas play along and win one for The Mayor?
Preseason isn't that far off. We'll soon find out.
---
Bulls coaching staff in full support of Kris Dunn's work ethic
On today's episode of Locked On Bulls, the guys discuss the Rookie Transition Program that was held by the NBA and react to Wendell Carter Jr.'s comments about the event. The guys talk about why Carter's comments are just another reason to love the Bulls 2018 first round pick. The guys also discuss some of the speakers at the event and touch on Bleacher Report's re-draft of the 2018 Lottery based on Summer League performances. Where did Wendell Carter Jr. re-draft, and who did the Bulls take at No. 7?
Locked On Bulls uses the second half of the show to discuss Kris Dunn's camp held last week, associate head coach Jim Boylen's comments backing up Dunn's work ethic, and then the guys get into what they expect from Dunn's development in year three. The guys take a look at the 2016 draft class, the top-five guards in the class, where Kris Dunn stacks up, and if Jamal Murray is considered to be a candidate for a breakout season, shouldn't Kris Dunn be too? All of this and so much more on Locked On Bulls.
---
Bulls Lauri Markkanen considered a top candidate for a breakout season
Locked On Bulls kicks off the show discussing Sports Illustrated's latest NBA article discussing the five potential breakout stars in 2018-19. Among the list of five players is Bulls Lauri Markkanen. The guys discuss the other four players listed (Jayson Tatum, Fred VanVleet, Jamal Murray, and Montrezl Harrell) and why Markkanen could potentially be the best of the bunch.
The second half of the episode, Locked On Bulls takes a question from one of the listeners: Is Derrick Rose's MVP season the worst of all-time? The guys discuss whether or not it's fair to compare MVP's in different eras, what exactly the voting breakdown was in 2010-11 season, why the LeBron effect has something to do with it, and why MVP voting isn't end all be all in an argument. All of this and so much more on Locked On Bulls.
---
Will Antonio Blakeney prove he is worth an NBA contract?
As the NBA offseason comes to a close, all eyes are on the Chicago Bulls' acquisitions of Jabari Parker, Wendell Carter Jr., and the re-signing of Zach LaVine. However, with an injury-prone starting lineup, the Bulls' season could become dependent on how much the bench players can produce and whether or not they are capable of moving into the starting lineup if needed. Antonio Blakeney may be one of these bench players asked to play a bigger role as the 2018-19 NBA season progresses.
The Bulls signed Blakeney to his first NBA contract back in July. He went undrafted after playing two years at LSU, but made the Bulls' 2017 summer league roster. Antonio's team-leading 16.8 points per game that summer earned him a two-way contract. He was named Rookie of the Year in the NBA G League averaging a whopping 32 points in 32 games played.
Blakeney rejoined the Bulls' summer league roster this year and led the team in scoring again, this time with 21 points. Although he struggled with his shooting percentage and turnover rate, the Bulls saw enough upside and potential in him to offer him his first NBA deal. His ability to create his own shots anywhere on the floor could make him hard to stop off the bench this upcoming season.
Blakeney played just 19 games with the Bulls last season averaging 7.9 points per game in 16.5 minutes played. He struggled with his shooting but averaged a promising 0.6 turnovers. It's a small sample size, but Blakeney could surprise the league this season with more playing time and perhaps a more important role in the Bulls' offense.
I'm not saying Blakeney will become an All-Star, but his aggressive mindset as soon as he crosses half court could make him an offensive threat. He's shown in both summer league and the G League the confidence he has when the ball is in his hands. While he has shown his ability to shoot the three ball and get to the rim, I believe his pull-up shot inside the arc is what makes him a great scorer. His explosive and unpredictable style of scoring makes him hard to guard and leaves me reminiscing about Nate Robinson's days in Chicago.
Antonio Blakeney definitely has areas where he can improve his game, but at just 21 years old you can see the potential he has to grow into a larger role for the Chicago Bulls in the future. The Bulls' young and offensively gifted starting lineup will certainly be fun to watch this year, but make sure to keep an eye on Blakeney as he looks to prove he is more than just a summer league star.